Air pollution control for industrial processes and VOC abatement
Minimizing process air volumes in industrial applications is important as capital costs and energy use are closely tied to flow. FALCO catalytic oxidizers treat Hazardous Air Pollutants (HAP's) and Volatile Organic Compounds (VOC's) from manufacturing processes such as tank displacement, vents, ovens, and coating processes. Compact designs provide discrete point source control. Systems are lightweight for their capacity and can be easily installed in small spaces, mezzanines and rooftops.
Variable frequency drive controlled dilution blowers accurately regulate input concentrations. At low concentrations or during standby, reduced blower speed minimizes energy use. Blower speed is increased during high vapor loading.
Catalytic oxidizers are sized to the vapor stream so that complete capture is obtained at maximum loading with a margin of safety. Please call today to discuss your specific application.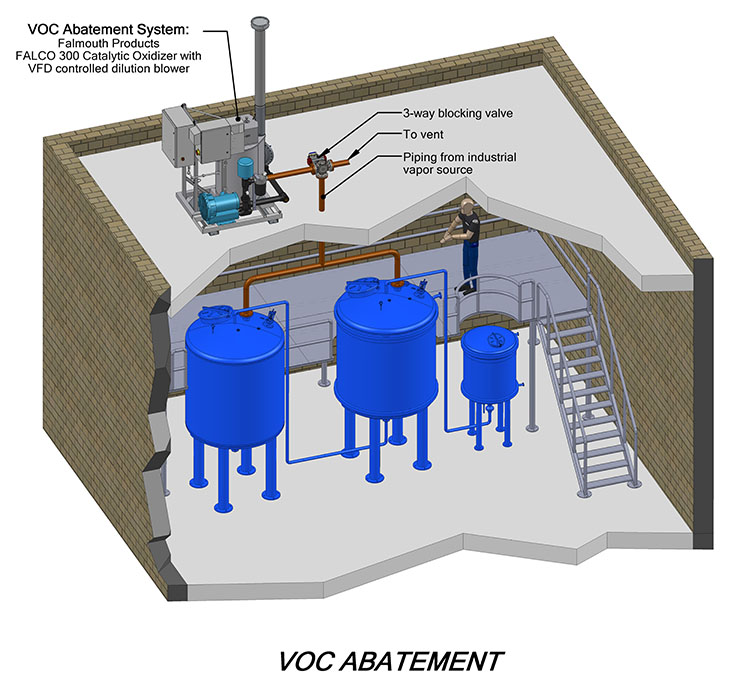 Visit the product links below for additional information:
FALCO VFD dilution blower demonstration video - Industrial vapor treatment
FALCO 100 Catalytic Oxidizer with VFD controlled 2hp dilution blower
FALCO 300 Catalytic Oxidizer with VFD controlled 10hp dilution blower
FALCO 600 Catalytic Oxidizer with VFD controlled 15hp dilution blower