FALCO 600 VAPOR CONTROL VALVE (VCV)® for Soil Vapor Extraction
Precise vapor control is critical to successful soil vapor extraction and treatment projects.  Falmouth Products Vapor Control Valve (VCV) is installed in-line on the vacuum side of the extraction blower.  The VCV enables the FALCO 600 catalytic oxidizer to start up, operate automatically, and cooperate with the temperature controllers to regulate input vapors. The VCV minimizes power use by accurately maintaining maximum input concentration consistent with the heat recovery adjustment. The VCV includes a valve body, valve disc, two valve seats, and a gear motor. The motor progressively opens and closes the valve in response to input from three temperature controllers.  The VCV simultaneously regulates dilution air and source vapors by positioning the valve disc. Controller rate alarms limit how quickly the VCV introduces vapors. A solenoid valve can provide rapid introduction of dilution air, regardless of valve position. The valve automatically returns to its closed position each time FALCO catalytic oxidizer power is cycled.
Factory Mutual Approved for use with FALCO 600 in Class 1, Division 2 hazardous locations
Valve body and covers are fabricated from 6061 T6 Aluminum
Weatherproof design for continuous outdoor operation
ACME thread lead screw provides low friction and long life
Indicator window shows valve position and knob shows direction (open/close)
Terminal blocks allow simple field wiring to FALCO control panel
4" vapor inlet/outlet. 2" solenoid dilution valve and 3" main dilution air inlet
Pressure drop when fully open (dilution closed):  7" H2O @ 600 CFM
Weight with filter 61 lbs. Height 30", Width 14.75", and length 20"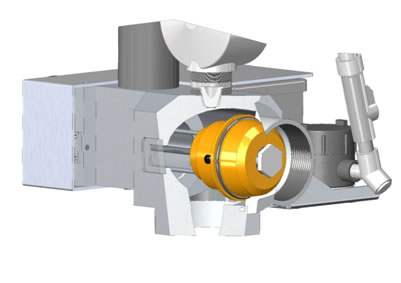 Click here to download a printable PDF Cut Sheet for this product.
Click here for installation instructions.