FALCO LIQUID SEPARATOR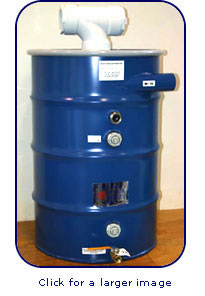 The FALCO Liquid Separator (water knockout) removes liquids and mist from air streams in soil vapor extraction applications. The Separator is installed on the vacuum side of the blower to prevent liquid carryover to the blower and treatment system.
The drum has a removable lid. Inside a cage provides columnar support to the drum. A stainless ball float shuts off inlet flow when the drum is full.
•
CAPACITY:
High level switch port: 35 gallons
Ball float shutoff: 43 Gallons
•
INLET: 3" OD Tubing
•
OUTLET: 3" NPT
•
CONSTRUCTION: 16 gauge steel-powder coated blue
•
WEIGHT: 77 pounds
•
MAXIMUM RATED VACUUM: 23 inches of Hg (312 inches H20)
•
PRESSURE DROP: 4 inches H20 @ 300 SCFM
Click here to download a printable PDF Cut Sheet for this product.