FALCO 300 CATOX with VFD CONTROLLED 7.5 HP BLOWER PACKAGE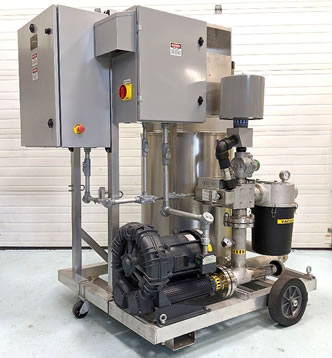 The blower package combines with the FALCO 300 to form an integrated vapor extraction and treatment system.

This package can be installed on either single phase or 3-phase sites.  A Variable Frequency Drive (VFD) converts single-phase input voltage to a 3-phase output to operate the extraction blower.  The VFD is also used for flow adjustment.  Factory assembly minimizes work on site.
Components are mounted on frames joined by forklift beams.  One frame supports the blower, Vapor Control Valve, and accessories.  The second frame supports the FALCO 300 and VFD. This low-profile system weighs 1525 lb. and is 4' wide, 5'7" long, and 6'2" tall. It fits in a parking space or a full size pickup truck.
When integrated with the FALCO 300, the 7.5 hp blower provides the following performance:
25" H20 vacuum   =   250 scfm oxidizer flow
40" H20 vacuum   =   223 scfm oxidizer flow
60" H20 vacuum   =   190 scfm oxidizer flow

System is fully wired and tested at Falmouth Products for maximum reliability and continuous outdoor operation.  Entire system is Factory Mutual approved for use in hazardous locations.
Packaged system includes the following:
•
FALCO 300 Catalytic Oxidizer
•
FPZ 7.5 hp, three phase, explosion proof, inverter-duty, regenerative blower model #SCL K07-MS-7.5-3 XP-1
•
FALCO Vapor Control Valve (VCV) with filter
•
Solberg 3" inline blower filter
•
Stainless steel vacuum and pressure gauges
•
Vacuum relief valve
•
Schneider Electric 15 HP Variable Frequency Drive in NEMA 3R enclosure for phase conversion and flow adjustment
•
Stainless steel mounting rails with forklift pockets
•
Mounting frames, factory piping and wiring between FALCO, VFD, blower and VCV

Click here to download a printable PDF Cut Sheet for this product.