FALCO 300 CATALYTIC OXIDIZER WITH OPTIONAL 10 H. P. BLOWER PACKAGE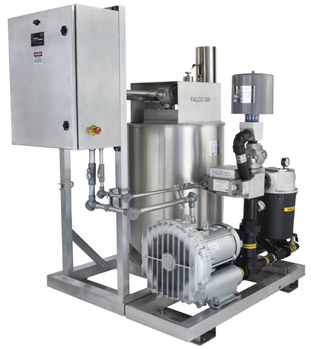 The blower package combines with the FALCO 300 to form an integrated soil vapor extraction and treatment system. Factory assembly minimizes work on site. This unit can be installed and running in less than three hours with one conduit to your breaker box and one connection to the vapor source.

Components are mounted on frames joined by forklift beams. One frame supports the blower, Vapor Control Valve, and accessories. The second frame supports the FALCO 300. This low profile system weighs 1,425 lb. and is 4' wide, 5' 7" long, and 6' 2" tall. It fits in a parking space or a full size pickup truck.

When integrated with the FALCO 300, this 10 hp blower provides the following performance:
25" H20 vacuum = 292 scfm oxidizer flow
40" H20 vacuum = 268 scfm oxidizer flow
70" H20 vacuum = 206 scfm oxidizer flow

Careful assembly of quality components and extensive testing yields a standardized system made to last. System is Factory Mutual approved for use in hazardous locations.
Packaged system includes the following:
•
FALCO 300 Catalytic Oxidizer
•
Gast 10 hp, three phase, explosion proof, regenerative blower model #R7100R-50
•
Vapor Control Valve (VCV) with filter
•
Solberg 3" inline blower filter
•
Stainless steel vacuum and pressure gauges
•
Vacuum relief valve
•
Recirculation valve for flow adjustment
•
Stainless steel mounting rails with forklift pockets
•
Mounting frames, factory piping and wiring between FALCO, blower and VCV

Click here to download a printable PDF Cut Sheet for this product.